We're breaking new ground
SeVac Civil Construction Services
Potholing and directional drilling are a critical part of every construction job, no matter how big or how small. Both are extremely important to get right. Risking a strike of underground water or gas pipes, telecommunication or electrical cabling can be extremely costly.
The SeVac approach to potholing, directional drilling and vacuum truck services applies our expertise in civil earthworks. We can get your infrastructure located, repaired or installed where and when you need it. 
Our vacuum trucks and directional drilling use the latest technology combined with our team's methods for efficient excavation. The vacuum truck process combines hydo-excavation techniques and high-pressure air to remove soil, water and slurry from those hard to reach places that an excavator can't get to. The SeVac team can get to an area quickly and with minimal disruption. 
Our aim is always to create the safest approach to accessing underground facilities for repair work, replacement or just general maintenance. 
We are Telstra Pit and Pipe accredited and Level 1, 2 and 3 service providers. Our experienced team has over worked across a range of civil works projects. We understand how these parts need to work together to keep a project running smoothly, to come in on time and on budget. 
Vacuum truck and potholing excavation are a non-destructive digging and trenching technique.
SeVac's Vacuum Truck services can assist with…
Non-destructive excavation (vacuum truck)

Trenching and backfilling

Locating and exposing underground cabling and piping networks

Mud and slurry removal

Pole and post digging and removal

Telecommunication excavation: Telstra pit and pipe accreditation

Site cleaning and soil removal
Directional drilling is an innovative approach to trenching and installation of pipes and cables.
SeVac's Directional Drilling services can assist with…
Boring and soil excavation

Irrigation equipment design and installation

Underground cable jointing 

Design and relocation of underground electrical assets from new road and construction works

Removal of obsolete or outdated electrical assets, including overhead aerials, poles and streetlights

Trenching and backfilling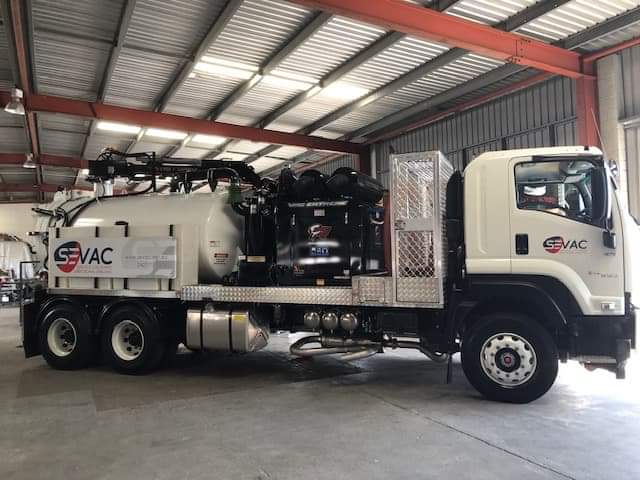 AS.1210 – Hazardous Certified Pressure Vessel Tank
25 Metres of 3/8" HP Hose & Flexible Spray Wand with Nozzle Protector
2 x 8 Metres 4" Suction Hose with Travis fittings